Earlier this month I found myself with an hour to burn. Somewhere between teaching a class or picking up children I found I had nowhere I absolutely needed to be for one, blessed hour. Driving twenty minutes back to my home, when I'd just need to get in the car to go somewhere else seemed silly, and so, instead, I went to one of my favorite places in the city, Barnes and Nobel. After twenty minutes of browsing I sent the store manager this message and then settled into read.
P.S. The salted caramel cookies are totally worth it.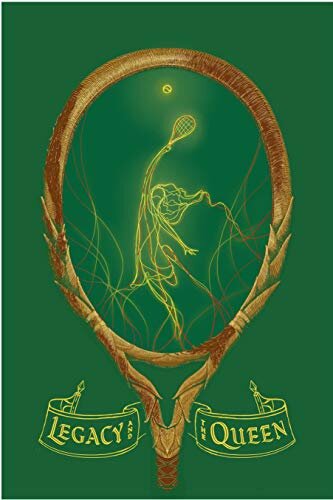 Game – Tennis means life and death for the residents of the magical kingdom of Nova, and for twelve-year-old Legacy, it's the only thing getting her through the long days taking care of the other kids at the orphanage. That's all about to change when she hears about Silla's tournament.

Set – Silla, the ruler of Nova, hosts an annual tournament for the less fortunate of her citizens to come and prove themselves and win entrance to the Academy, where they can train to compete at nationals. The prize is Silla's favor and enough cash to keep open the orphanage, and Legacy has her heart set on both.

Magic – What Legacy has yet to know is that the other players have something besides better skills and more money than she does. In Nova, tennis can unlock magic. Magic that Silla used to save the kingdom long ago and magic that her competitors have been training in for months already.

Now, with the world turned against her and the orphanage at stake, Legacy has to learn to use her passion for the game to rise above those around her and shine.
The book caught my attention for several reasons. First, it is green, my favorite color. Secondly, the cover is honesty to goodness fuzzy, almost appropriately enough, like a tennis ball. The elaborate cover forced me to pick it up from where it lay on a table of middle grade selections and give it further inspection. Turns out, the outside, isn't half as cool as the inside. Check it out.
In a day and age when everyone is trying to figure out the cheapest way to produce a product, especially a book, this one takes the road less traveled. The paper is thick and intricately decorated with colored ink. Glossy end papers and a tri-string attached bookmark are also unique features.
Upon opening the cover, I also discovered that the book concept was created by Kobe Bryant. Yes, that Kobe Bryant. The actual words in the book were written by a much less familiar name, Annie Matthew, and after doing a great deal of research I can tell you that she was a professional squash player. Other than that, I know not one more thing about this woman, besides the fact that she took Kobe's ideas and spun them into a sports fairy tale, complete with an unlikely chosen one and magical creatures. This isn't a new concept.
It is not uncommon for a big name author to partner with an unknown writer to co-write a book, and then, based on the famous author's name and reliable reputation, sell thousands of copies. Some people scoff at this while others call it down right cheating. I actually like the system. It allows a new writer on the scene to collaborate with and learn from a master, while also making an actually decent return on their investment of time and talent. (As opposed to cutting their teeth solo and barely making rent with debut book sales.) The pro-author also gets to share what they have learned, help a newbie out, extend their prolific line up of books and maybe even have a little fun.
In an article on Thought Co. it was reported that "Patterson has been pretty open about his collaborative process: He hires a writer, usually someone with some published credits, and gives them a lengthy, detailed treatment, usually somewhere in the 60-80 page range. Then begins a pretty intense back-and-forth; Mark Sullivan, who co-wrote several of Patterson's Private series as well as Cross Justice, described weekly phone calls, brutally honest feedback, and a tireless pursuit of the "terrific." So it's not fair to imply that Patterson is simply coasting on his brand name; the collaborative novels are his ideas, his characters, and a great deal of his input. As Patterson himself says, "I'm very good at plot and characterization but there are better stylists."
It seems that Kobe and his co-writers have adopted a similar strategy.
In an interview, Kobe said that getting the first chapter right was the most difficult part of his collaborative process. "I have these characters. This is what they stand for. This is who they are." But once you go into writing dialogue, you really have to be able to say this is what the character would say, this is something they wouldn't say. This is the inflection they would use. We really went back and forth on that first chapter but once we nailed that, it was the foundation for everything else." Wesley King, the author of Kobe's first book was a friend. The author of Legacy and the Queen was a former professional squash player turned novelist and seemed a natural fit for this second collaboration.
As a self-published author seeking to trade in her multi-hat wearing status as a writer/marketer/book seller/website upkeeper/etc. (especially in the kid lit world) I was curious about the publishing company behind this expensively made and extravagant book. Turns out, it was published by Kobe Bryan't media company. It is actually their second title. Hey, I thought. I love sports, and (if you'll allow me to be confident for a bit), I write a pretty good middle grade story! I wonder how I can work with Kobe on a story. Well, the answer is, you can't. Never have I ever seen scarier submission guidelines. EVER.
Well, bummer. There goes that dream!
A third book will be released on November 12 as Kobe partners with writer Ivy Claire. It is "a tale of two children from opposite sides of the tracks" who form an "unexpected bond" to battle evil.
As far as the story itself, I enjoyed Legacy and the Queen. It definitely relies on fantasy tropes in a somewhat predictable way, but I think middle grade sports lovers, the book's intended audience, will truly love it and the other books in the series.
A few other pieces of information I unearthed in my research process are listed below. Feel free to further explore and ponder their points if the topics interest you.
This book seller says she won't sell Kobe's book based on his past sexual assault cases. What do you think?

The book was inspired by Kobe's own basketball infused lifestyle as well as those of many kids who turn to basketball as an escape from reality and a path to a better life. You can read more about this here.

Like any A-lister, Kobe knows people. He was able to chat with J.K. Rowling and George R.R. Martin about his ideas for these books. Of course. Read what they told him here.
And finally, if I were to have a moment with Kobe, here are a few questions I would ask him about his work and being an author.
What lead you to publishing books? Why for kids?

How have your kids reacted to the books? Are they big readers?

There are aspects of this book and story that call you out as someone new and different on the publishing/writing scene. Was stepping into a new branch of the media industry (publishing) difficult? Did you have anyone from the literary scene guiding you through the process?

Are you afraid you are missing out on a great idea because you are so closed off to ideas and submissions from those outside your current circle?
** If you liked what you read on my blog today (or are in search of weekly word nerd goodness) and would like to have it delivered to your inbox every Wednesday morning, you can sign up HERE. As always, feel free to share this post with others you think might be interested via email, Facebook or Pinterest. **
Affiliate marketing is promoting a product or service in return for a commission. When you purchase a product or service through one of my links, I earn a small part of the sale. There is NEVER any extra cost to you. If you looked up the same product on the same site through another source besides my website, the price will still be exactly the same. 100% of the time.
I also NEVER link to products or services that I don't 100% believe in. I will never tout a company or their goods if they are disreputable or if I don't believe them to be worthy of your hard-earned money. In no way are my affiliate links a scam. (Language borrowed with permission from Kristen Kieffer on Well-Storied.com)